May 20, 2016 9:38 am
Time magazine recently published a list of some of the most influential people, ranging from icons to leaders all over the world. There is no doubt that all of these influencers are extremely successful but just how relevant are they on social media? I mean, since we're living in a digital world wouldn't it be interesting to see how much these icons could earn per tweet? A new Twitter calculator created by Webfluential – an Influencer Marketing platform, allows you to see how much anyone on Twitter earns, that's right ANYONE.
I decided to check up on three of the most influential icons in the world and see how much they could earn per a tweet.
Leonardo Di Caprio
With a net worth of $217 million there is no doubt that this American actor is extremely successful. He was said to have earned $20 million for The Revenant – the movie that eventually got him his first Oscar. He also earned a staggering $55 million for Titanic. So we know he is definitely worth a lot, but how much could his tweets be worth?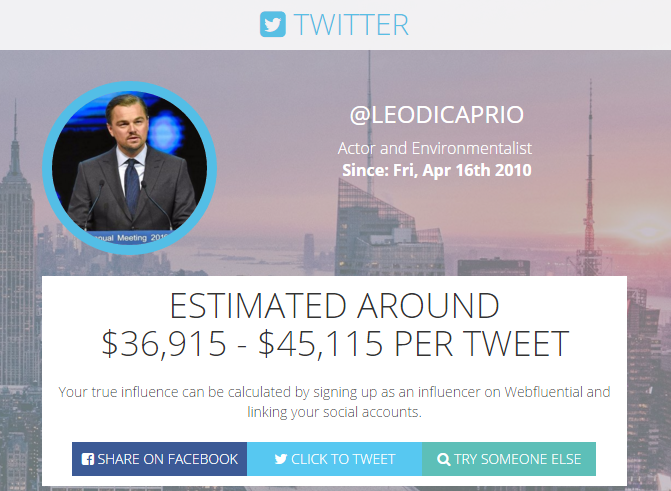 2. Ronda Rousey
Ronda Rousey is quickly becoming one of the most recognised and highest paid female fighters. In 2015 it was said that she had an estimated net worth of $7 million.   With a string of MMA and Judo achievements as well as possessing a knack for acting, it's safe to say that Ronda has achieved a great deal, and is certainly one successful lady you wouldn't want to mess with. Have a look at how much this icon could be earning per tweet.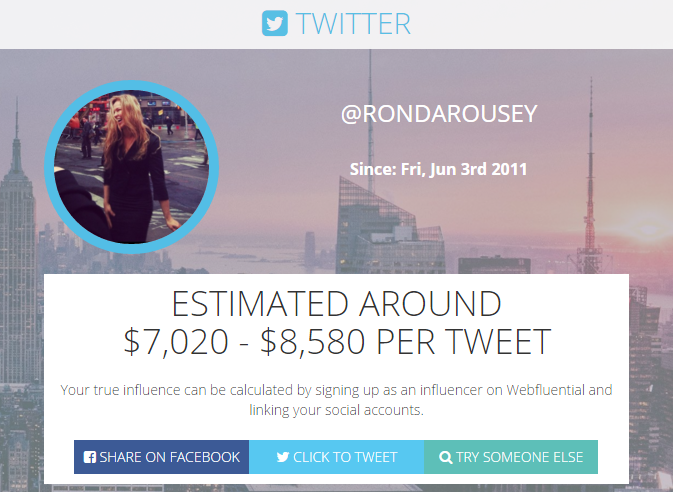 3. Adele
We all benefited from Adele's break up and heartbreak when she released her album, 21. Her music moved people so much that they wanted to break up with a boyfriend they didn't even have. Even though after four years you'd think she  would be over her break up, she released her album 25 four years later.  It's been estimated that her current net worth is at $75 million so let's see how much a single tweet from Adele could be worth.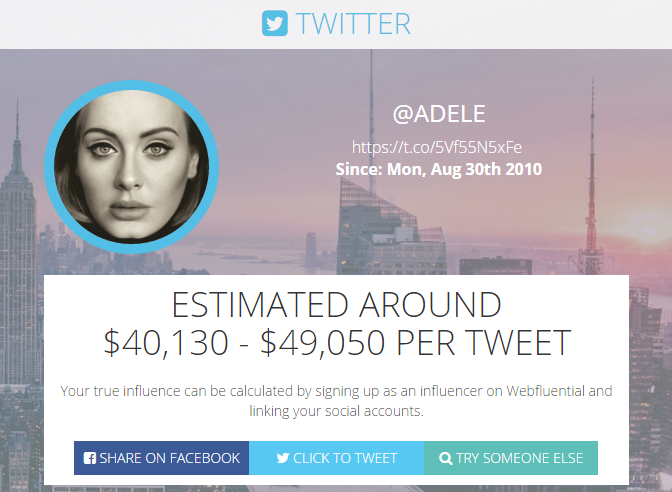 Well it's safe to say Adele is no longer rolling in the deep but rather rolling in the dough.
See how much you could earn for a tweet here.
Share this article