December 18, 2018 4:59 pm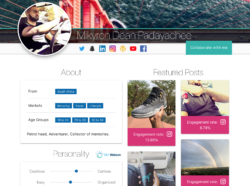 In the age of the Influencer, most influencers ignore the importance of a Media Kit. After all, everything a brand needs to know about your body of work is on your social channels, right?
What these influencers don't realize is that Media Kits have a very specific focus and purpose beyond what your channel can convey. In essence, your Media Kit is a packet full of information about you as an influencer. Traditionally your Media Kit is sent to brands to encourage them to use your influence in a potential campaign, and also to brands you are currently working with.
Creating a Media Kit on Webfluential will give you access to unique and striking features. Brands will be able to view your body of work and information about you and your audience. Brands will also be able to begin a collaboration with you straight from your Media Kit.
Your Webfluential Media Kit updates in real time to reflect your changes in audience, as it grows, as well as your top performing content.
Here are some of the features that are shown on your Media Kit:
Links to your channels and blog

Your Audience's demographic and geographic details

The markets you operate in

Your IBM Watson personality insights

Featured posts

Brands you have worked with

A collaboration form for brands to fill in if they want to reach out to you
Sharing your Media Kit with brands and your audience can be a great tool for getting noticed and booking your next influencer campaign.
Take a look at some great media kits from influencers on Webfluential:
Candace is a Dallas based fashion, lifestyle, beauty and travel blogger with over 300,000 in following across social platforms.
Christian is an artist, entrepreneur, and social media influencer. His aim is to spread a positive message through his content.
Karisma is a beauty, fashion and lifestyle influencer who loves to create positive inspiring content for people to watch and see.
Man of Many is one of Australia's leading men's lifestyle sites with over 500,000 unique visitors and 880,000 page views per month.
For Nicola Fashion is so much more than buying clothes and being trendy. It's about expressing herself to the outside world!
Josh is a drummer for One Direction and ZFG.
Thando blog's about all things food, fashion, music, travel and lifestyle events.
Cristina is an Italian lifestyle, foodie and travel blogger with a unique perspective. She describes herself as a "witch blogger".
Melonie is a lifestyle influencer with a love of all things home decor, family, food, and wine.
Sarah is a travel storyteller. She creates engaging, high-quality videos and photography that is shared on her channels.
Share this article