September 11, 2018 7:11 pm
If Nike's goal with their latest instalment of the "Just do it" campaign was to stir conversation and get attention, goal accomplished. Featuring ex-NFL quarterback and political activist Colin Kaepernick, the campaign has created controversy as well as a 31% increase in online sales of Nike apparel.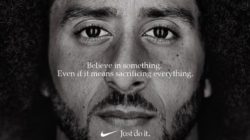 Nike has become synonymous with sports. The Nike swoosh and the tagline 'Just do it' are some of the most recognizable symbols in the world. Nike has become one of the most successful and valued brands, largely from their courage to tell effective stories that communicate what their brand is and what it stands for. This innate ability to tell authentic and awe-inspiring stories helps bond customers to the products they sell.
In 2016, during a NFL preseason game, Kaepernick decided to not stand for the national anthem in order to protest racial injustice in America. Kaepernick's bravery to fight for a what he believes in was met with controversy. Kaepernick started a movement, with other NFL players following his lead by also kneeling for the national anthem. This lead to conversations about racial injustice being sparked online and in the media. While many applauded Kaepernick's bravery his effort was met with backlash mostly from the right wing, citing anti-patriotism. Since opting out of his contract with the San Francisco 49ers in 2016, Kaepernick is yet to find a new team and has since sued the NFL for conspiring to prevent him from signing with another team.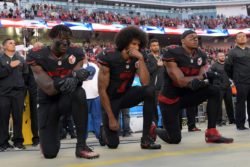 Creating a brand's story
Everyone has a story to tell. It is human nature to be captivated by a great story. A brand's story is a vital aspect of creating their identity. By creating a great story a brand is, in turn, creating value, brand visibility and ensuring that their product is desirable. When a brand's story is successful it will give their customers something to utilize in their life as well as something to identify with. This means that their product will not only have a use, but also a meaning.
Nike has gone from just another shoe company to a dominant force in the world of sport by creating a brand image, visibility, and logo that is of extremely high value. Nike not only provides its customers with a superior product but by always being brave enough to stand up for controversial conversations such as HIV, ageism and now racial injustice, they have provided their customers with meaning to live by.
In his book Man's Search for Meaning, Viktor E. Frankl the great Austrian neurologist and psychiatrist once said, "Man's main concern is not to gain pleasure or to avoid pain but rather to see a meaning in his life." It can, therefore, be said that meaning is everything, in life and certainly in business.
Telling a brand's story with influencers
One of the best ways for any brand to reach their customers is through the use of influencers who help spread the brand's story. Influencers have engaged audiences who pay close attention to the brands that are mentioned.
Nike has always made use of influencers, and by doing so they have created superior marketing. Athletes like Michael Jordan, Serena Williams, and Lebron James have embedded an image of influence and celebrity in the consumer's mind. Nike's products that leverage influencers convey the idea of greatness and create idols that customers want to strive to become.  When consumers translate these influencer's ideologies and stance on pressing issues the brand becomes incredibly valuable. The Nike swoosh is now strongly associated with power, fitness, athleticism and social justice.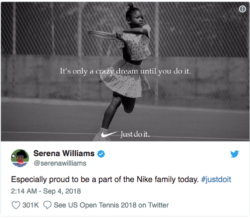 Why brands need to take risks in storytelling
Sometimes taking a stance can be risky. The risk of causing controversy and losing customers can be incredibly daunting. In today's age marketers often talk a big game about becoming involved with cultural conversations, often falling short, by watering down their message and not really taking a stand on anything.
Nike took the risk and their message was amplified even more because of that. "Most brands try desperately to stay out of highly charged political issues. In this case, Nike is almost inviting the controversy," says Tim Calkins, a marketing professor at Northwestern University's Kellogg School of Management.
Nike almost definitely looked at the risk that was involved in taking such an enormous stance. Kaepernick is a polarising figure who divided the NFL, and indeed the entire country, into two groups, those who supported kneeling during the national anthem to protest racial injustice and those who stood to show their patriotism. Rolling the dice on Kaepernick would have been hard for many other brands, but Nike is not just any other brand. Nike went all in, assimilating Kaepernick's bravery of believing in something even if it means losing everything, and their slogan 'Just do it'.
When the campaign went live it was met with mixed reviews. The company's stock price fell by roughly 3 percent that afternoon, critics who opposed kneeling during the anthem threatened to boycott the brand and there was an uproar on social media as people posted pictures of burning Nike products. However, Nike's bravery was met with an even higher praise. Many have applauded Nike for taking a stand on important social issues. The campaign had incredible support from Millennials, Gen Z and people in key urban demographics. The hashtags #JustBurnIt and #ImWithKap were both trending on Social media.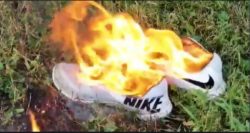 This campaign, as controversial as it is, has overall strengthened Nike. According to Marketwatch.com, After an initial dip immediately after the news of the campaign broke, Nike's NKE, +0.73% online sales actually grew 31% from the Sunday of Labor Day weekend through Tuesday, as compared with a 17% gain recorded for the same period of 2017.
The news generated plenty of online buzz, with social engagement around Nike and Kaepernick rising sharply this week, according to 4C Insights, a marketing technology company. Mentions of and comments about Nike on social-media platforms rose 1,678% on Sunday and Monday, according to 4C data. Mentions of Kaepernick spiked 362,280%, the data showed.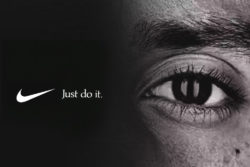 By using an influencer's unique story, Nike not only increased sales and the overall value of the company, it magnified and deepened an important social justice conversation.  There is a clear demand from Millenials and Gen Z for brands to take a stand on cultural issues. Being able to assimilate your brand to an authentic story that customers will gain value from is paramount.
Your brand might want to consider following in Nike's footsteps, taking a risk, being authentic, letting influencers tell their stories, or conversely risk increasing your irrelevance.
Share this article