October 29, 2020 10:00 am
TikTok announced today that global influencer marketing platform – Webfluential.com – has been engaged as its first authorised Brand x Creator partner in Africa. Both brands and agencies across the continent are now able to collaborate with TikTok creators at a commercial level, based on the reach, resonance and relevance of these influencers. TikTok's rapid growth and highly engaged audience in Africa.
Content creators can start using Webfluential's free tools to market and monetise themselves by registering here, and brands and agencies can register to engage with influencers here or contact us directly at [email protected].
"TikTok's unique creator engagement solutions and immersive formats reach and engage audiences in innovative new ways. We selected Webfluential as our partner in Africa to bring our offering to African brands and agencies at scale", says Saul Moross, Global Operations Manager for TikTok.
"TikTok enables creator-led brand engagement that is relatable and authentic, simple and entertaining allowing brands to supercharge audience engagement. Coupled with influencer strategy and our influencer expertise at the Nfinity group, we can now work with brands and top TikTok Creators to engage new audiences", says Greg Bailie, Lead Client Partner at Webfluential South Africa.
"With Access to influencers across eight different channels and a combined audience of over 2 billion people, the addition of TikTok as a channel means that our customers and agencies will be able to work with the top TikTok talent and boost the uniquely talented creator economy in Africa", says Ryan Silberman CEO of Webfluential.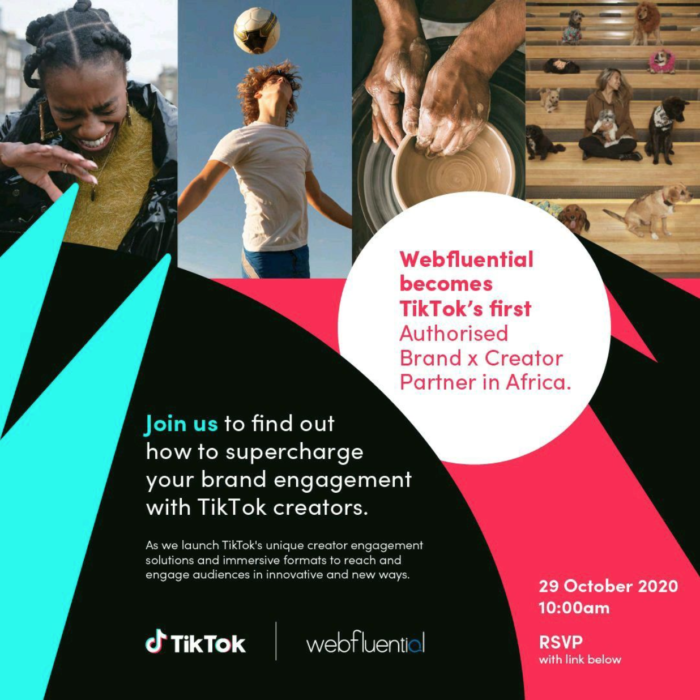 With new and innovative ways to engage African audiences, TikTok's growth in Africa shows no sign of slowing down. This partnership is set to bolster its position among the communication mix for brands on the continent. With Webfluential already connected to 300m fans and followers across Africa, this partnership with TikTok extends the potential for brands to tap into a 1bn-strong audience. The digital revolution will not be televised, but it's happening from right within your pocket.
Content creators can start using Webfluential's free tools to market and monetise themselves, and brands and agencies can register to engage here or contacting us at [email protected]
Share this article