August 26, 2015 11:15 am
Editors note: Our SA franchise CEO, Kirsty Sharman, recently shared her thoughts in an article for Social Media Today on her recommendations of ways to work with influencers you have probably never thought of. Experience on our own platform has taught us that there are far more advantages than you realise and brands are stepping out of their comfort zones to experiment. Read more on Kirsty's thoughts below.
---
Everyday we see more and more content around Influencer Marketing. How to find top social influencers, how to connect with them, case studies on brands who rock Influencer Marketing. This tells us that Influencer Marketing is no longer a trend on the horizon, it's a reality. What's exciting for us as Digital Marketers is learning about the added benefits influencers can have on overall campaigns.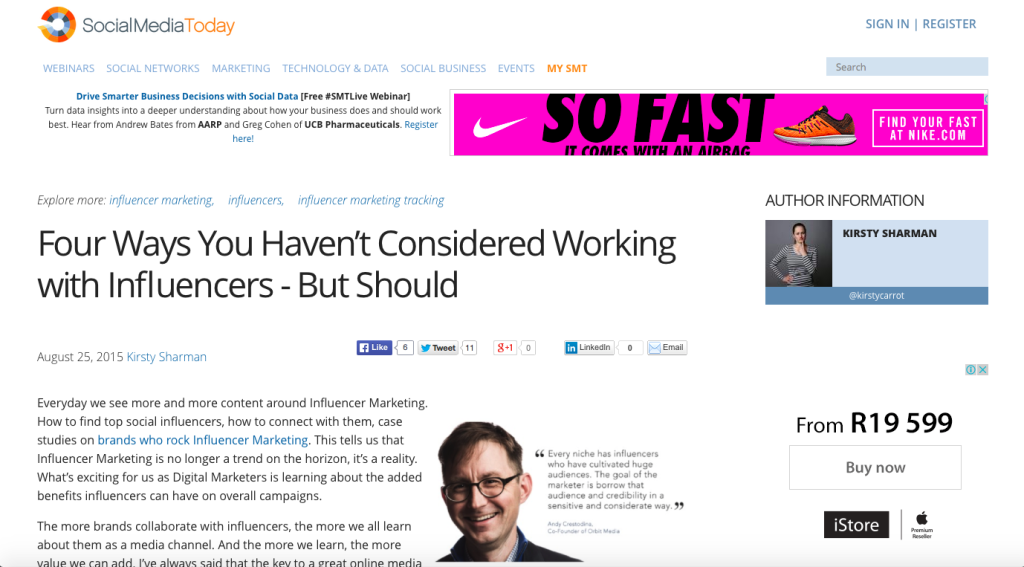 The more brands collaborate with influencers, the more we all learn about them as a media channel. And the more we learn, the more value we can add. I've always said that the key to a great online media plan is experimentation. The online world changes faster than textbooks can be written – so if you aren't experimenting, you aren't learning.
But if you're reading this article you're probably the learning type so lets continue.
With 92% of consumers saying they trust word-of-mouth recommendations above all other forms of advertising, this rise of influencer collaboration is unstoppable. The idea of brands maintaining complete control over their messaging is fading into the digital distance. And brands that want to be heard are learning to work with the people their consumers trust most  – the people who already influence their target market.
What we've learnt building an influencer marketing platform is that working with Influencers has more benefits than you might think. Experimentation has taught us that Influencers can help brands conquer more than just the awareness and consideration part of the marketing funnel. It's great to see brands stepping outside of their comfort zones and working with influencers to discover new ways to deliver on traditional marketing tactics.
Visit Social Media Today for the full article and Kirsty's recommendations on innovative ways to work with influencers.
Share this article