September 8, 2016 8:39 am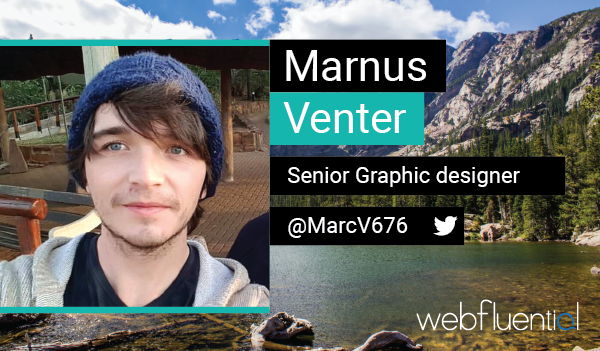 Twitter – @MarcV676
We're a technology company that has some talented individuals; each plays a huge role in bringing our tech, service, brand and vision to life. Our regular monthly feature aims to introduce you to some of the great people at Webfluential.
Today we're featuring our master designer, who produces all the incredible imagery and graphics here at #TeamWebfluential. Meet Marnus!
Hi Marnus, tell us a little about yourself.
Hi, I like to think of myself as an 'inspiration hunter'. A true believer that creativity sparks an experience, I try to experience as much as possible out of life. I do that simply by making sure I put the right foot out the front door and by not being scared of what waits for me on the other side.
What inspired you to work with #TeamWebfluential?
From a general point of view, what inspired me to become a designer was being surrounded by other creatives and seeing their different stories bloom. To use a Webfluential-related analogy, being influential on a level much bigger than yourself and seeing the reach it has on a global spectrum just shows you how creative ideas can change people's way of thinking.
What's the one thing you want to tick off your achievements list in the next five years?
I want to inspire the next generation with what I do, which in turn could hopefully see more creative influence being pumped back into the world.
If you could have dinner with any three people, who would they be and what would you order?
Three people… I would definitely have a great time getting to know Magnus Walker, Steve Jobs and perhaps Robin Sharma. Mixing it up with a visionary, a creative and not being scared to go with my gut around a glass of whiskey and a braai would be great.
Share this article