July 17, 2015 11:35 am
This blog post was originally written by Ruan Fourie.
We are always looking for innovative ways to ensure you get opportunities for new work. Our team has created some great additions to how we share potential job offers and keep you up-to-date. Sit back, relax and let us do the work with marketers on your behalf.
We include our qualifying influencers on shortlists for briefs that we share with marketers daily. Now you will know when we do this.
We've launched a toolway to show you you've been shortlisted (hooray).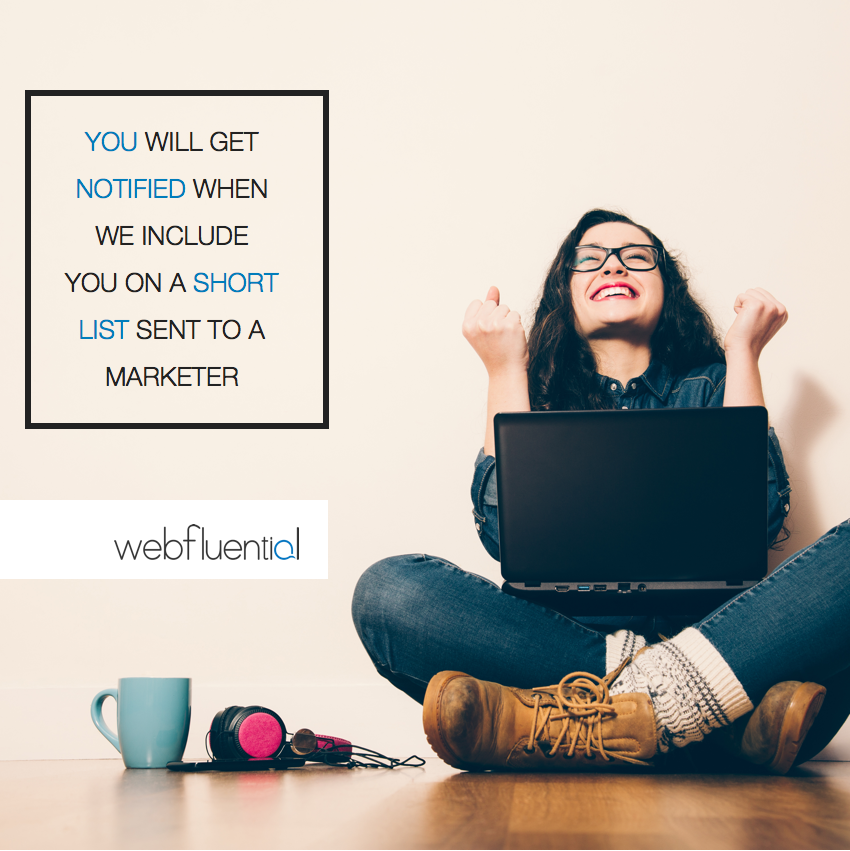 E-Mail notifications keeping you up-to-date
Earlier this week we launched our Influencer notification E-mail system. Now you will receive an E-mail notifying you every time we have included you on a shortlist that we have sent to to a marketer.
Such a simple solution, to address a few communication gaps.
These E-mails are not job offers. It's just a way we can keep the communication with our influencers open. Now you can see that we are showing your Influencer Profile to marketers and we are constantly trying to find you jobs.
The marketers and the brands will then review the influencers we have included in our suggested shortlist, and pick the best influencers to work with. Once the marketer has signed off on the influencers they want to work with, we will send the job offer to the selected influencers.
It's also because we have influencers' best interests at heart
The notifications also serve as a way for you to protect your own interests. Now that you know you have been included on a shortlist that's been sent to a marketer, you will be aware that the brand will be looking at your profile. If the same brand approaches you to do the job at a lower price (or for freebies) than the price you have set on your Webfluential profile, you will be able to make the informed decision.
We like helping Webfluential influencers be informed.
The better informed our influencers are, the more likely they will get paid the price they have chosen to charge for their work. Because nobody should work for less than they are worth.
The fee that we charge on campaigns is to cover the work involved with pitching our influencers to brands. The fee is also because we take the payment risk, we fill out vendor documents, we manage VAT and other taxes and we also follow up on payments. What's in your best interest is also in our best interest.
It's a slap in the face if a brand goes directly to you after we have done so much work to get you the job.
That way you know that we are actively trying to get you jobs by showing you to marketers, and you can make sure that you get paid the price that you have decided to work for.
In some cases we might offer you a job at a price lower than the prices you have set as brands often request volume discounts. Then it is down to you to decide if you are willing to accept the job at the price offered. We want you to be in control of the jobs you accept.
Keeping the communication open
We built this system because we have your best interest as a Webfluential Influencer at heart. To show you we are working for you, and keep you informed as much as we can. We also realize that some influencers might not want to receive these notifications and we are working on a way for you to turn them off.
Remember to check out our post on why you might not be getting Webfluential jobs, to help iron out the small issues that might be keeping jobs out of your inbox.
What do you think?
We love hearing from our Influencers. Please leave any comments or questions below. Or you can tweet us at @webfluenti_al, or find us on Facebook.
Share this article