September 16, 2015 9:59 am
Have you ever browsed the web and felt that whatever website you visit; you see ads from the online store you visited the day before? Whether you are catching up on news on CNN or browsing Facebook pics of a friend's holiday, ads keep popping up (like magic) with the shoes you decided were not essential. However, this is not the act of your Fairy Godmother waving her wand to ensure you have this seasons latest kicks, but it is rather part of a strategic remarketing campaign.
One of the most crucial questions for any business is "How do I attract more customers?" The corner store wants to increase foot traffic, a steakhouse wants more reservations and the online shoe shop wants to have less abandoned shopping carts. However, in the over-competitive online world, discovering a website may be easy, but leaving it is as simple as clicking a button. The more important business question in this case is "How do I get them to come back?"
Remarketing is used to reach past website visitors or app users. It is a smart way to reach out to people who may not have made an immediate purchase or taken up your call to action on first visit. It gives you the opportunity to reconnect with potential customers by positioning targeted ads in front them when they are browsing elsewhere on the web.
Put simply, one uses marketing to bring a visitor to your website, and when they do not make a purchase, you then use remarketing tactics to bring them back to your website and convert them into paying customers. Remarketing is a great tool to add to your Influencer Marketing campaign. Lets find out why.
Using dynamic remarketing to customise ads
Dynamic remarketing takes things a step further by including products or services that people viewed on your website within the ads. This delivers a customised and more relevant ad to the potential customer. They are more likely to take note of the ad as they recognise the product displayed from their previous browsing or abandoned shopping carts. This connection makes them more likely to buy. Linking back to the shoe example, this would be viewing ads for the green Nike trainers you left abandoned in your shopping cart, whilst browsing other websites.
How does remarketing work?
Remarketing ads can be delivered to a defined audience in both text and image display formats. The ads are managed by Google AdWords and are displayed on web pages visited by your target audience that accept Google advertising placements.
The technology behind remarketing works by placing *cookies that are stored on the visitor's computer when browsing. Their cookie ID is added to your remarketing list to serve relevant and customised ads.
How successful is remarketing?
The central principle of remarketing is to retain the attention of people that have already expressed an interest in your business. Therefore, for remarketing to be successful you need to ensure that your ad is highly relevant to what your visitors are looking for and that there is some enticement for them to return to your website. For example, perhaps I decide to buy the green Nike trainers as the remarketing ads show me a 10% discount code or offer me a gift certificate on my first purchase.
When used correctly, remarketing is a powerful tool for repeat website traffic, sales conversions or creating brand awareness. This is why remarketing is sometimes referred to as 'conversion marketing' and is a great tool for driving return on investment (ROI).
A Google case study, of Loews Hotel Group, showcases how they shifted 70 percent of their offline ad spend to online last year. The hotel group started using remarketing and the overall results were very favourable. Revenue increased 10 percent, bookings went up 9 percent and unique site visitors increased by 5 percent. However, the most impressive number was the $60,000 in sales that the $800 remarketing campaign produced.
Remarketing is believed to be the ultimate tool to address the problem of abandoned shopping carts and increase sales conversions. A study showcased on Selligent found that the return rate of customers that abandon shopping carts without remarketing is 8 percent, but with remarketing the return rate increases to 26 percent.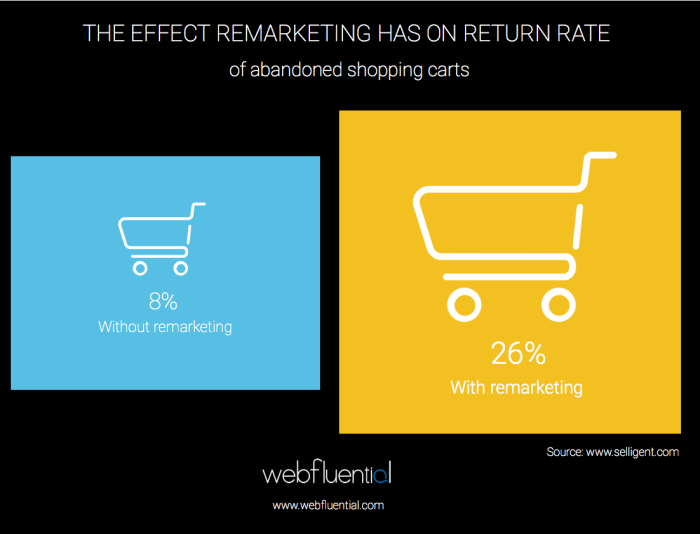 In an era where our time is continually diverted to something new and we are bombarded with messaging, it is important to remain relevant and at the forefront of a potential customer's mind. Remarketing allows marketers to strategically target people that have already expressed interest in their business and remind them to purchase the green Nike sneakers they abandoned in their shopping cart. With a little added enticement from a remarketing campaign, 26 percent of those customers will return to purchase the shoes.
*A cookie is a small bit of code that helps a web browser store data about websites.
Share this article