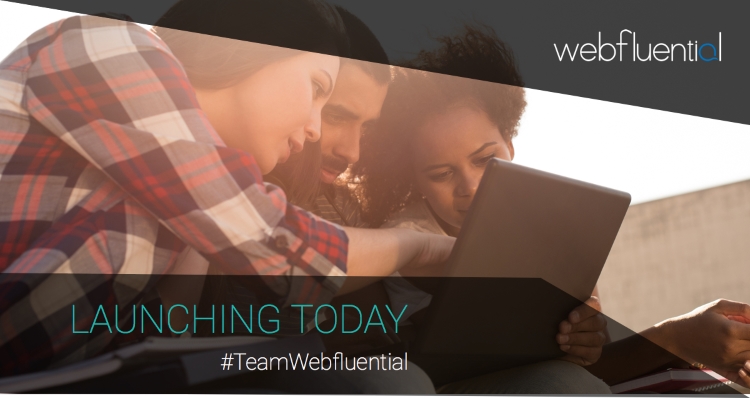 December 2, 2015 2:21 pm
Monetising your blog or social profiles and marketing yourself to brands are challenges many Influencers face. From novice to professionals, discovering new ways to make money or build brand partnerships, can be stumbling blocks that many struggle to resolve.
Webfluential launches new tools to help monetize your blog and market yourself to brands
Webfluential has always offered a quick and easy solution to gain exposure to big brands looking for Influencers. Our platform has created the perfect space for Influencers to market their blog, Twitter, Facebook, Instagram and YouTube to brands, by simply completing your Webfluential profile.
Now we are taking things a step further. We are launching some new tools today that will help all Webfluential Influencers monetise their online influence, be it via their blog, their Twitter profile, their Facebook page, YouTube account and beyond. Putting you one step closer to turning your blog into a business.
Market yourself to brands
Build your media kit easily
Most online Influencers realise the value of a media kit, as it is often the first thing a brand will ask for when they consider working with Influencers. A media kit displays important data like your website traffic, the size of your audience on various social media profiles and audience demographics.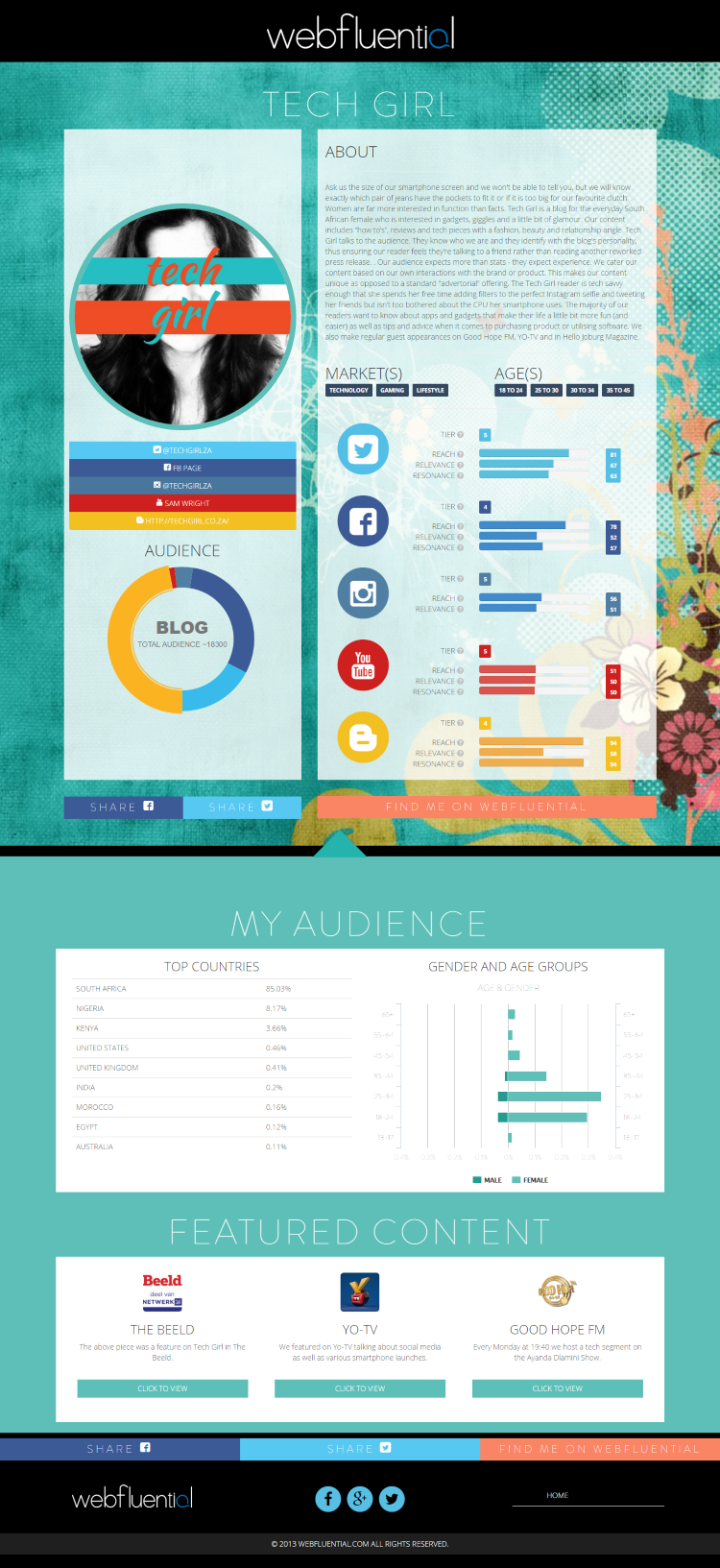 Although we understand the importance of a media kit – we also know it takes a long time to create and update. We have solved this by launching a customisable media kit tool that is so easy to use. If you can attach a file to an e-mail – you will be able to build your media kit with the Webfluential platform.
The Webfluential media kit tool will give you one consolidated location where you can showcase your social channel data, blog traffic data, audience location and other demographics and is also a space to showcase past work you have completed with brands.
Become Webfluential accredited
We manually approve each of our Influencer applications. Being part of #TeamWebfluential shows that you take creating content and your audience seriously. You are a professional that works with brands and it's important that you can show your credibility as a Webfluential Influencer.
We've created a collection of assets (badges) that you can use on your blog to identify yourself as a Webfluential Influencer to potential brands visiting your blog. To get these assets simply login to your Webfluential account and download them from your "Influencer Toolkit".
We are also working on a customizable widget that you will be able to embed on your site to show that you are a Webfluential Influencer, that we will be releasing in the near future.
Invite and earn
We know that nobody understands Influencers as well as other Influencers (it's why we have a team of Influencers working for us). It is also how we know that Influencers connect with each other and establish their own Influencer networks to learn and help each other.
Our "Invite and Earn" program is built for current Webfluential Influencers to invite other Influencers to sign up to Webfluential. Best part is that you will earn a referral fee for each new Influencer you introduce to Webfluential that successfully signs up.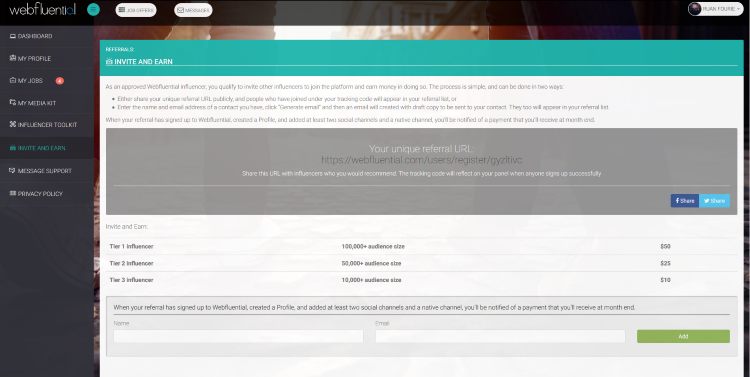 The referral fee ranges between $10 and $50 for each new Influencer that signs up to Webfluential successfully, depending on their tier. Login to your Webfluential account and head to the "Invite and Earn" page to get your unique URL, and start earning money for introducing your Influencer friends to Webfluential.
The best of all, Webfluential is an international platform, so your friends can sign up no matter where in the world they are.
Add new channels to earn
Most of you have been privy to our beta launch of our new Influencer Earning Channels already. We know the work that is involved in building and maintaining an online audience, and as such we want to offer you as many ways to earn money from your work as possible.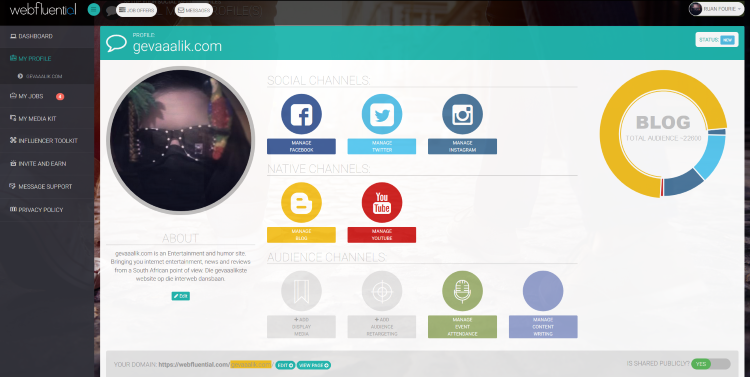 Let's take a look at the four new channels we have added in more detail:
Event Appearance
Taking time out of your day isn't always the only price you pay to attend an event. That is why we have now added the ability to charge for event attendance from your Webfluential account.
You can contract for a half-day event or a full day event. Simply login to your Webfluential account and set your event attendance prices from your Profile Dashboard.
Copywriting
Writing is a skill that many Influencers have developed, so we have provided the platform for you to leverage this skill and make money.
You can set a price per word, price per revert and also set a minimum amount of days that it would take your to write a piece of content. Simply login to your Webfluential account and set your copywriting price from you Profile Dashboard.
Banner Advertising
Having banner advertising space on your site is one thing, managing the advertising space on your blog is another thing altogether. That is why you can now manage your banner advertising space from your Webfluential account.
Simply add the banner space that you have available on your blog and Webfluential will do the rest.
Audience Remarketing
With Audience Remarketing brands can use your blog to display certain banners to clients that are being targeted with ads.
All you have to do to enable Audience Remarketing on your blog is login to your Webfluential Account and apply via the Profile Dashboard.
We need your help
We are really happy that we can help Influencers turn their blogs and online influence into a business. We are constantly working to create innovative ways for Influencers to do just that, as easily as possible.
With any project, there is always things that can be done better. Our team of Influencers are important to us and we value your feedback. Share any feedback with us via influencers@webfluential.com or by simply sending us a message from the dashboard messaging system.
We love the conversations that have been going on online around #TeamWebfluential and we have all learned a lot from each other. Thank you for being the best online Influencers in the world.
Want to be a Webfluential Influencer? Are a marketer or brand that wants to work with Webfluential Influencers? Simply click the button below.
ESTIMATE HOW MUCH YOU COULD BE EARNING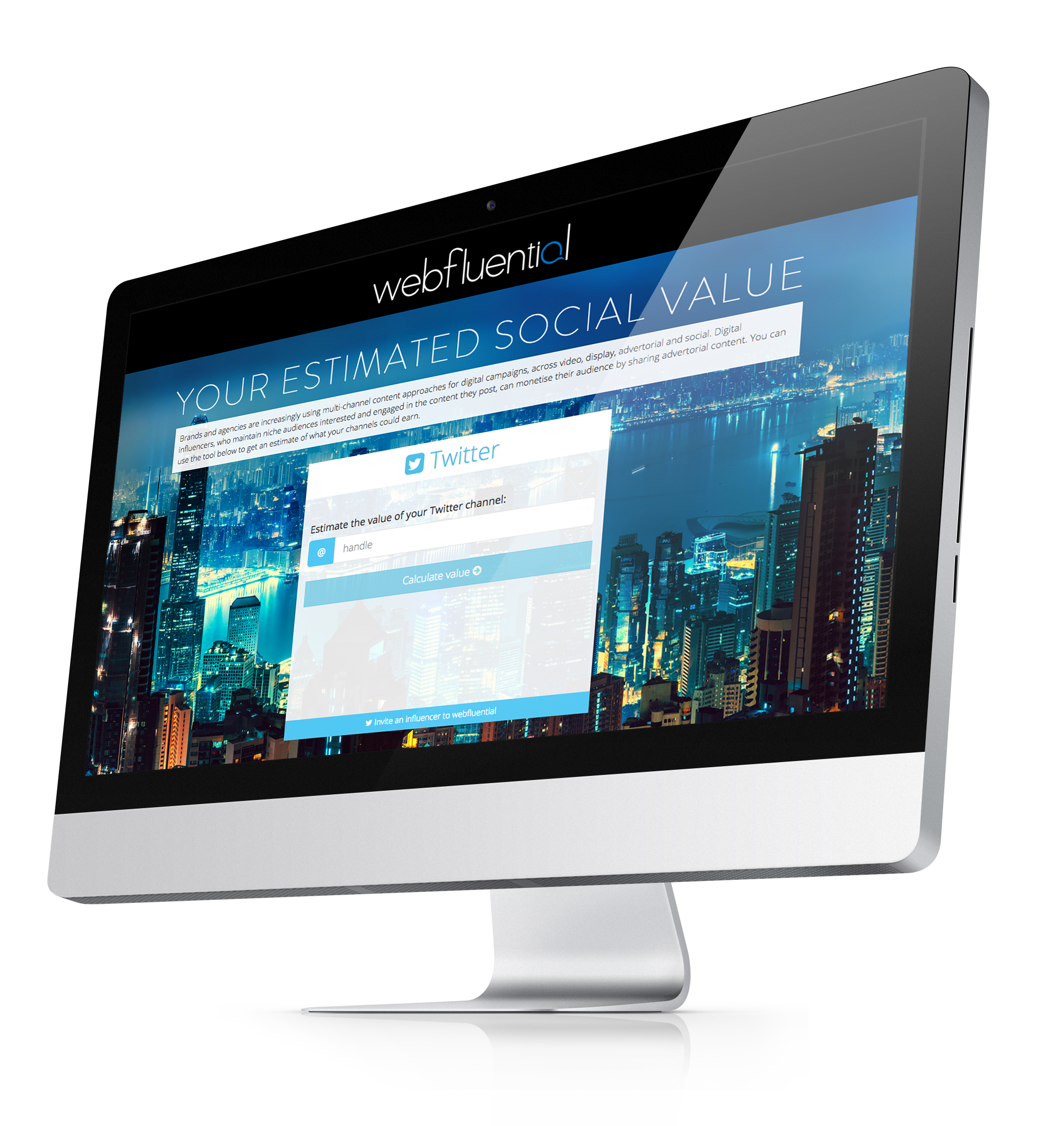 GET AN ESTIMATE
GET DETAILED REPORTS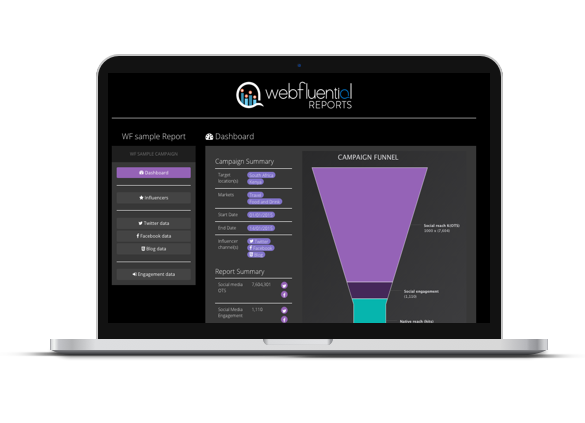 VIEW DEMO REPORT